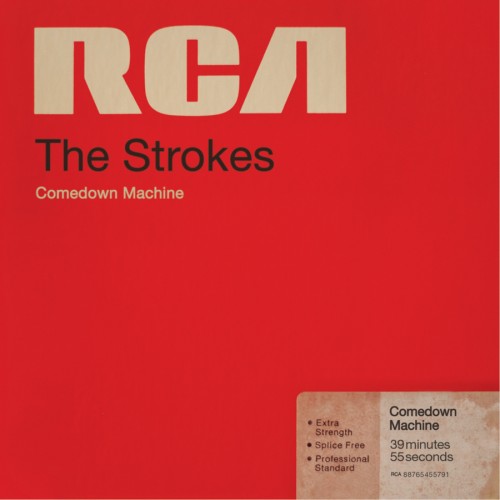 The Strokes have never aspired to be average. Even though their debut carried a self-deprecating, defeatist title the band had grand ambitions straight from the start and with songs as blisteringly inventive and breathlessly infectious as those on Is This It, why wouldn't they want to make their distinctive mark while conquering the music world in the process?
The New York City quintet brazenly helped revive American guitar rock at the exact moment it needed a strident shock to the system but their record have increasingly fallen off in both style and substance – to the point where some young fans might wonder what the big deal was with these guys in the first place.
Comedown Machine, the band's wildly discursive fifth studio album, certainly isn't going to allay the concerns of new listeners or longtime fans as The Strokes offer up an uneven, mundane collection of disparate songs that are among the safest of the group's career, even as they shift towards an uneasy throwback experimentalism that passes timidly for some type of mid-period sonic reinvention. When the best compliment that you can possibly pay an album is "at least it's better than their last record" (remember Angles, anyone? Of course you don't) it becomes obvious that a band is clearly treading water creatively, with their best days sadly long behind them.
The record opens with the 'Wanna Be Starting Something'-like disco pulse of 'Tap Out,' perhaps a subliminally titled number that suggests the band might be calling it quits in the future, or that they gave up on this record before it even began. Either way, it's not a good sign nor a strong start for the group, as Julian Casablancas' pitchy falsetto grates atop a listless, '70s-infused melody and rhythm that ultimately goes nowhere.
The band right the ship ever so briefly on 'All The Time,' which churns with the brash potency that made us all fall for them in the first place, but sadly this slight return to form is short lived and mostly forgotten as soon as the musical nonsense of 'One Way Trigger' kicks in. The track is quite simply a load of absolute dreck, with a meandering keyboard riff that sounds like it could have been played by either a child during their first lesson or a cat who has become an internet sensation. Add in Casablancas' comically affected wail, and you have the top contender for the worst Strokes song in history.
More from Best Fit