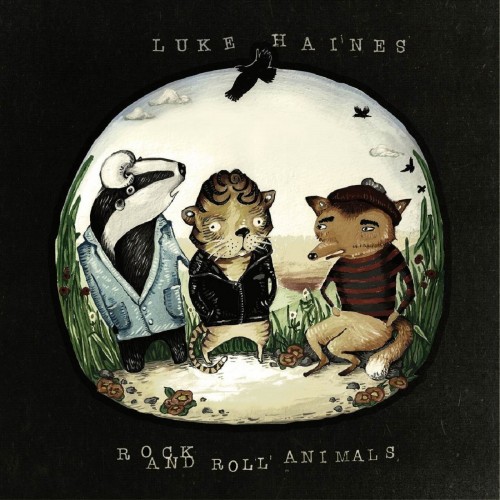 Luke Haines, one of the great but all too often overlooked songwriting talents of the last twenty years, is no stranger to the bizarre. His entire career, from arguably accidentally inventing Britpop with the brilliant New Wave  in 1993, right up to his recent concept records about wrestling (9 ½ Psychedelic Meditations on British Wrestling of the 1970s and Early '80s) and Tony Allen-obsessed alternative history (The North Sea Scrolls) has been a macabre comedy of sorts seeing him hit the charts with a carefully constructed hit single (Black Box Recorder's 'The Facts Of Life'), watch his original band The Auteurs drown in a miasma of mid-'90s mediocrity and even take a dive from a balcony that landed him in a wheelchair for the best part of a year.
It's all been imbued with one of Haines' most evident talents – spinning a yarn. As his memoir Bad Vibes taught us, Haines loves to both share his opinion and also embroider an experience. The subject matter of Rock N Roll Animals, hilariously nearly sharing it's title with that of fellow curmudgeon Lou Reed's 1974 live album, is no mere embroidery – its grinning, shrouded psychedelic fantasy spat out through the medium of gentle, complex folk music.
It tells the tales of three woodland animals – Jimmy Pursey (lead singer of Sham 69), Gene Vincent (he of 'Be Bop A Lula' fame) and Nick Lowe (remember 'Cruel To Be Kind'?), in turn here cast as a frisky fox, a cat who's seen it all and a dependable badger. They live in Hersham, Surrey and, after being warned by a selection of birds of an imminent nighttime attack ('The Birds..The Birds'), do battle with a vengeful Angel Of The North ("God bless the great North/South divide" heckles Haines heartily on the track named for the sculpture).
This is the sound of the late '70s health and safety film made reality (think the crushingly frightening 'Apaches' for a reference point)– then turned hallucinatory cartoon. While it could be that Haines has taken inspiration here from his children's author wife Sian Pattenden, it's equally likely that he's taken his cues from guest vocalist Julia Davis (it's her voice that propels the story forward intermittently) and her twisted sense of comedy, her mastery of the most compelling kinds of characters – superficially naïve and kind, at heart dark and chewed up, twisted to snapping point – just like this tale.
On the title track we get a music hall acapella breakdown: "Everyone's at it/They're at it like rabbits/No matter how hairy or ugly they are" set to a haunting melody and climaxing with a disembodied scream. If it's a children;'s story it's more Plague Dogs than Homeward Bound. We get lines like "Meet me at the hanging tree at noon" ('A Badger Called Nick Lowe'), "You cannot argue with a pussy who's seen a vision" ('Three Frendz') and truly pitch black, glorious gear like "People stare/Opinions are divided/Down below the pits are all closed/Where striking miners marched years ago/Their memory defiled/By this monstrosity of steel and fire" (the aforementioned 'The Angel Of The North').
We're even treated to a pretty great list of what is and isn't righteous in music (The Soft Machine come out of this well, Led Zeppelin, deservedly, not so much), and all set to gentle, complex folk complimented by flute, the very occasional jangle of stupid geetar and plentiful Wicker Man-esque percussion.
One would hate to spoil the climax of the tale, suffice to say it's simultaneously unpleasant and perversely uplifting – like so much of Haines' work. While this might not be among the (minimum) of three absolute masterpieces he's created over the last two decades (pick your own), it deserves your full attention, indulgence and sick laughter all the very same. Maddeningly wonderful, Mr. Haines.
More from Best Fit