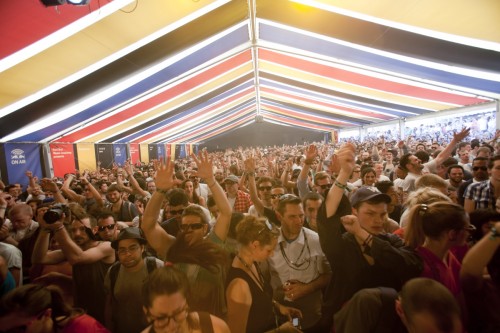 Saturday was a struggle. After two consecutive nights exploring the best Barcelona has to offer, the Sonar By Day crowd began to take on the look of the undead – or, at least, of the half-asleep.
Still, though, the festival's final day boasted a lineup full of old favourites and new discoveries. Here are our picks from Saturday.
DJ Harvey has the look of a rock star. His hair-metal locks are a fitting illustration of his first steps in music, as the drummer in John Peel-endorsed post-punk band Ersatz. Today he is beloved as one of the most instrumental figures in the introduction to the UK of New York disco and US house – a sound that has long characterised his sets. Closing the Red Bull Music Academy stage on Saturday, though, Harvey made relatively brief NY excursions, preferring to concentrate on the techier end of his repertoire – in preparation, presumably, for his mammoth Berghain stint later this week. Disco or not, though, Harvey's was a beautifully analogue-sounding set from a DJ with enough faith in his records to let them play out even, as happened midway through, when they skip.
DJ Harvey might have jettisoned the disco, but Azari & III still hold it close to their hearts. Playing SonarLab, one of By Night's outdoor stages, the Canadian quartet suffered from iffy sound throughout – a predictable outcome, perhaps, when you put two live bands (the other being Metronomy) on a lineup otherwise dominated by DJs and solo laptop artists. But engineering issues really don't matter when you are in the presence of a band this entertaining. Theirs is a sound that pivots at two points. The two vocalists are all denim-clad New York camp-club histrionics, pulling co-ordinated dance moves of the sort that would clear the floor of pretty much any venue you can imagine. But at the back of the stage the musicians, playing an array of synths, samplers, and drum pads, introduce a more metallic edge and suggesting a dark seam beneath the arms-aloft celebration.
Steve Goodman is a dubstep renaissance man. By day he is a (notoriously tetchy) university lecturer. By night he writes books on sonic warfare, DJs, and runs one of the world's most important labels. Sleep is, presumably, a secondary concern. His was the standout set from Saturday's Hyperdub showcase, which also included a preoccupied Cooly G and an absurd but entertaining Scratcha DVA. Goodman's set was pretty sloppily mixed, but with selections that flitted between dub, juke, and jungle, and with a phenomenal, skittish closing track taken from his own forthcoming releases, there were more than enough welcome surprises to make up for the occasionally dodgy craftsmanship.
More from Best Fit