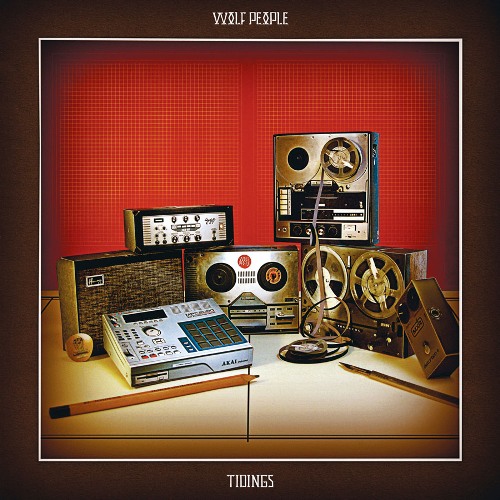 With the delusional naysayers of the music industry forecasting the apocalypse/judgement day/day of reckoning for the most influential stringed instrument in musical history, it gives you a great feeling of smugness when a band comes along that has the ability to obliterate those doubts entirely with just one animalistic, lingering riff. "Guitar music" – whatever that means – isn't dying out. It's merely hibernating, or more likely sprinting away from parts of the over-polished, auto-tuned, Simon Cowell-injected twaddle that's violently engulfed UK popular music.  Enter Wolf People: purists at the forefront of classic, English psychedelic folk-rock.
Following support slots for Dinosaur Jr. and the triumph of their 2010 debut Steeple, the quartet now re-release Tidings, a relaxed and fluent assemblage, entwined in a gorgeous psychedelic, blues rock holy matrimony. The album is a compilation of lead singer Jack Sharp's editing/recording experiments from 2005-2007, which is normally the kind of thing that I'd steer well clear of. However, the muffled, crackling tape and unclear echoes of the various recordings exude a warm, comforting authenticity, effortlessly feeding nostalgia into the ears of each thankful listener. Yes, the album is almost one long interlude. Yes, you will tend to skip and swerve through it, but whilst this may at times detract attention away from the album, it ultimately merely serves to prolong the human and individual depth of the record.
Tidings casts its listener out on a mythical, drug-fuelled voyage more sensually mesmerising than the contents of a kaleidoscope, stretching from 1960s/1970s sweaty, smog-filled, cave-like bedrooms to the lustrous gates of a Hendrix/Harrison-influenced Eden. Dark frenzies of tinny guitars and battles between brutal bass lines are accompanied by a lurking smorgasbord of unexpected instruments – from an army of panpipes and harmonicas to the mystical sitar. Whilst 'Black Water' holds its own with dreamlike guitars, mythical chimes and a strong, steady drum beat, it's hard not to become slightly distracted by similarities to the old English ballad, 'Scarborough Fair' (itself "optimistically" based on the Plague that wiped out over a third of England) that's thriving in the tracks deep foundations.  'Storm Cloud' bears intelligent, catchy rhythms whilst 'October Fires' and 'April' draw separate influences: from head-bopping, Beatledelic bass sections to Southern U.S  stick-to-your-ribs blues guitar and harmonica.
There's an endearing, natural nostalgia that radiates from everything Wolf People touch. Their music is unrefined and raw (indeed, some might class it as lacking, or try-hard), yet possesses a quality rarely found in music these days: genuine soul. And trust me, it's teeming with it.  Relishing its red-rose English charm, and soaked in blues rock, folk and psychedelia, Wolf People are leading by example in hoisting open the eyes of the guitar from its lengthened and extended sleep.
More from Best Fit