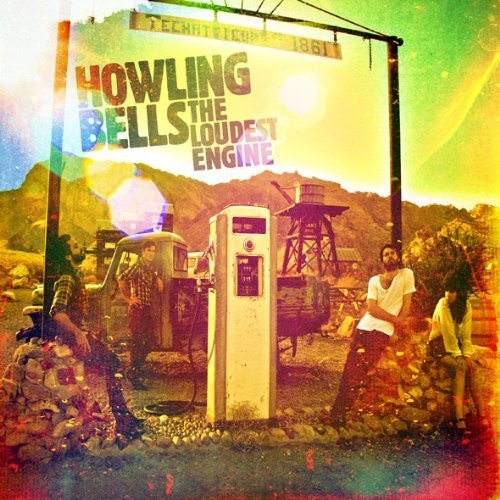 Working with their third label in as many albums, Howling Bells decamped to Nevada to record their latest long-player and have returned louder and – well, just louder, really. Unfortunately for Stein, Stein & Co., amping up the volume seems to have been an overburdened objective, as there is little else to inspire extra attention. Unmatched by bolder ingredients or much added flavour, at times The Loudest Engine falls flat. Periodically enjoyable nevertheless, this is a semi-successful collection of melodic, 70s-styled rock music, less gothic than the eponymous debut and less synth-infiltrated than 2009′s dissatisfying follow-up, Radio Wars.
While there is certainly a strong EP's worth of material on show, producer Mark Stoermer (better known as bassist in The Killers) cannot give this full collection the lift it needs. Perhaps counter-intuitively, the Aussie foursome's former association with Coldplay seemed to yield a more textured, shaded sound than achieved here, where too often the gloss dispels the gloom. This might be a harsh assessment, but an underwhelming effort from a once-loved band is disproportionately disappointing, compared to something that was always inherently unsound. At their best (the debut's majestic 'Setting Sun' set the bar) the band can brood and beguile both at once but on The Loudest Engine they seem determined to operate in series, not parallel. This linearity also applies to the primitive percussion and bass that bug at intervals, most noticeably on third track 'The Wilderness' and its ill-advised extra outburst in particular.
Although the overall production, sound and songwriting feel streamlined and rather flat, this is still a record with peaks and troughs. Cutting opener 'Charlatan' is excitingly spiteful and the stomping 'Into the Sky' has an aura and attitude that is up there with their strongest output, while 'Don't Run' and 'The Faith' are the most tuneful songs, the latter endowed with spook and spark. It is telling that, as the album's softest, most acoustic cut, 'Don't Run' is also the most attractive. Regrettably, the introduction of a seed-donating spaceman on the album's nadir, 'Gold Suns, White Guns', provides only dubiously-produced, pseudo-celestial nonsense, all the worse for the Kate Bush affectation on the vocal. Yet there's something in the cadence of penultimate song 'Baby Blue' that renews all the atmospheric promise and potential the group have had for so long.
Every bit as slick as it is often strident, The Loudest Engine finds this indisputably proficient band still chasing an aesthetic that doesn't naturally suit. They're not abrasive enough to convince as a fully-fledged rock outfit; rather a sort of jarring, neutered hybrid and, having spoken of wishing to avoid making the same record twice, the output seems designed to be different by numbers. Worse, Juanita Stein's stunning voice – surely the most prized asset – is sometimes missing in the maelstrom of cacophony. Although the album doesn't drag and their quality emanates, this solid set of songs will never match up to the debut. Howling Bells have more than earned our patience and show enough here to encourage its retention – the worry is whether they're starting to run out of chances.
More from Best Fit