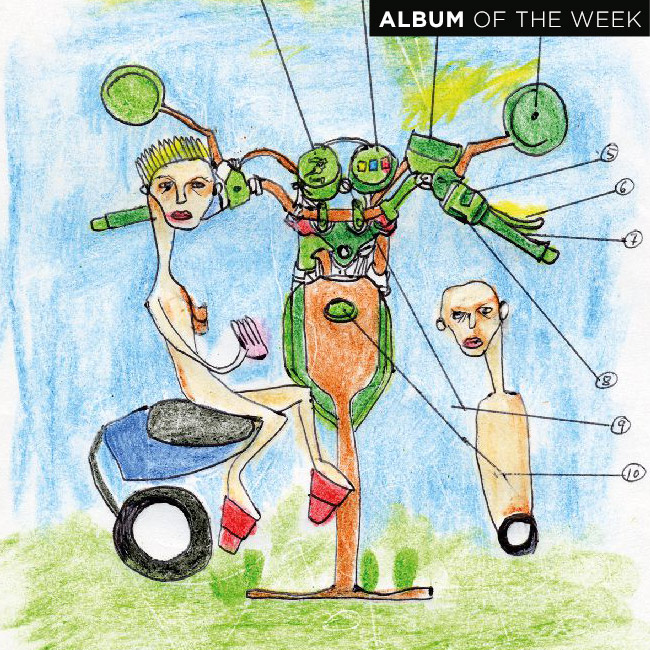 There was a collective grump on the day Daniel Blumberg announced his departure from Yuck. The one-time Cajun Dance Party man broke it off with his former band in order to concentrate on making his own material – it was a bittersweet announcement. When he finally re-emerged as Hebronix, the entire blogosphere seemingly perked up at once, like dogs sniffing the rich aroma of raw steak, jowls a-flutter with whisperings of snippets of rumours and ctrl-v-ing of his new track, 'Unreal'. Conjoining with Neil Hagerty of Royal Trux for his debut solo venture, also titled Unreal, we see that he hasn't abandoned his fondness for swampy '90s guitars, but he's definitely thrown open his curtains to take a look at what's outside his comfort zone.
The record may only tally six tracks, but it stands at over forty minutes – all bar two exceed the seven minute mark. The opener, 'Unliving', broaches ten. It's a neo-grunge number with lashings of lo-fi guitars scuzzin' around listlessly; it's lethargic, snooze-inducing indie-rock, though not because it's boring, but because it's like a lullaby. There's a similarity to Kurt Vile in the tangled strands of noise that expand into oblivion over a great deal of time. Still, amongst the dreamy sonic fog and clouds of fuzz, Blumberg succeeds at enticing hope and sunshine into the fray.
Tracks like 'Garden' are where we really see Blumberg begin to stride forth into uncharted territories, instead of channelling his past band's essence. We encounter funk basslines, sickly woodwind hooks and the violin of your nightmare. There are fragments of hazy surf-pop á la Yuck, but when the distortion subsides and muffled vocals are given their time to shine, the similarities soon vanish. It's a track that begins innocently – perhaps even naively – but one that descends eventually into tumultuous, rapturous walls of noise. The best way to describe it is probably somewhere in the middle of 'grunge-jazz' and 'indie-funk'.
What may seem like one man just aimlessly wandering with his guitar at first, soon unfolds as something cut from finer cloth. He sticks layer upon layer of melody and harmony into one huge congealed blur, hiding secret influences and fractals and darling inflections within the grand scope of Unreal. While you can enjoy the hugeness of it all very easily, there's plenty of reason to delve into the detail.
'The Plan' employs gargantuan piano arpeggios that crackle like campfires around jarring guitar riffs. It's wrought with pop grandeur and stadium-ballad emotion. It burns slow, that's for sure, with Blumberg quite content to noodle in a trance-like state between the languid percussion and plinkily-plonkily keys. It's a transcendental jam backed by the garbled warble of warped synthesizer, a stoner's delight.
Blumberg's first foray into lone wolf-dom is astounding. He doesn't opt for the big pop bombast, nor the biting words (though his lyrics aren't shabby), instead, he focuses on crafting epoch-spanning soundscapes, blending a myriad of genres and sounds together – with his signature '90s guitar fuzz – to create sprawling paeans of noise that encroach upon your personal space. At times, it's claustrophobic; the all-encompassing sounds can throttle your consciousness. At others, you feel like a sneeze caught by the wind, winding your way through zephyrs and clouds and other atmospheric ephemera. Blumberg is brain-scouringly adept at summoning these enormous sonic structures. It all feels thoroughly effortless. Unreal is a labyrinthine effort you'll find almost impossible to not get lost in.
More from Best Fit