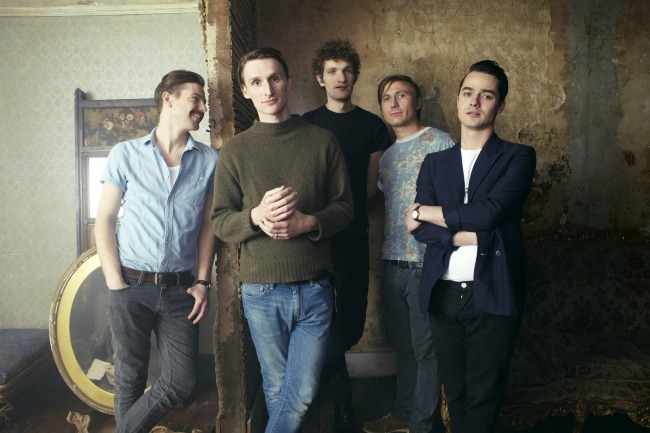 2011 was a pretty wild year for the newly formed guitar-pop band, Zulu Winter. Starting their journey with a whirlwind of interest from press, management, labels and the blogosphere, the South London five-piece felt somewhat overwhelmed by the response to their music, which we ourselves describe as "filled with a sense of grace, atmosphere and irresistible four-to-the-floor beats". After spending the best part of a year holed up in The Fortress Studios, writing and recording, Dom Millard (keyboards) told press that "we knew that we would need a whole body of work ready before we launched it on the world". When they finally put two songs up on their blog, Zulu Winter finally became a reality. "Suddenly it became this industry feeding frenzy. Every manager in London wanted to speak to us. There was a month where we'd rehearse each day then go out to meet someone in Shoreditch House every evening. We all got very drunk."
The band which consists of Dom Millard (keyboards), Will Daunt (vocals & guitar), Iain Lock (bass), Henry Walton (guitar) and Guy Henderson (drums), are currently on their first headline tour supporting the release of their debut album Language. Speaking to Guy Henderson and Henry Walton in their rehearsal room, we ponder their journey up until now. "I'd never really considered anything else," Henry admits, "playing guitar with these guys is all there's been."
"Coming to the music slowly before the world saw it was something pretty important, but it was also kind of forced upon us. We had to record our new album slowly because we all had normal jobs, no money, no label and no management; we were financing the record ourselves. With us not playing shows or releasing anything, obviously no label could hear us to want to fund it and to we just didn't want that interference. So, at the start of all this we saw those jobs as a means to an end and now we're in that nice position where all the hard work has paid off and we get to do our proper job of playing music full time."
Soon after releasing their tracks online, support tours followed with Givers and Friendly Fires. Now they go on their first full UK tour as a headline band without truly knowing their fanbase.
"It's a weird one," says Guy. "We don't actually know who our audience is yet. We embark on this huge tour and finally get to see what a Zulu Winter fan looks like and that's pretty exciting."
"We love touring," he continues, "SXSW this year was brilliant. We played for our agency out there, Billions, as well as shows for Clash Magazine and Double Denim, who put out our 'Never Leave' 7". It was so much fun and when I was out there I saw probably the best show I've seen this year, if not one of the best shows I've seen for a very long time and that was Girls."
Does touring with and listening to other bands inspire them to try new things out in their own music?
"Well," starts Henry, "when we write, we definitely go through stages of not listening to much music, just because you don't want to be too heavily influenced by what you're listening to. It can take the focus away of what you're trying to do and I think, as a musician, you have to be aware of how much influence you're taking in whether it's conscious or unconscious."
"We used to do that so much when we were growing up," says Guy, "we've known each other since we were maybe thirteen and just being in different bands growing up, we would always end up sounding like the band we were listening to, which was usually Radiohead. I actually think we've always been aware of trying not to sound like Radiohead"
Henry continues: "It's an important process that I think all musicians have to learn about. You have to discover what your music is through these other references and learn what traps not to fall into."
Their debut album Language is a well paced, intelligent piece of work that comes together with ambient expansions beneath vocal lines and influences from obscure electronica like that of 1960's Moog pioneer, Dick Hyman. This, alongside the instant impact of pop music, results in a guitar-pop record with forethought and depth beyond one dimensional indie-pop.
This sense of the methodology extends beyond their music and into the band's core and branding. Their name, Zulu Winter is borne of William S. Burroughs' 'Cut-Up Method', a surreal exercise in juxtaposing unrelated words into a collage-like combination. Lyrically, the album features references to T.S.Eliot's The Wasteland, reflecting themes of youth, manhood and atheism as a prism on modern life. Their blog too, features a plethora of obscure cultural references that range from posts about choreographer Loie Fuller to trailers of classic 1970's British horror film, 'The Shout'.
"The thing is," says Guy, "we are very keen on messing around, being influenced by things and experimentation, but only in the limits of what we know and what we know sounds good. I wouldn't say we're an experimental avant-garde band, essentially we just write songs just like a pop song and that's at the heart of what we do. When we're recording we try to experiment as much as possible to get something individual to us, but sometimes people ask if the drumming is reminiscent of some obscure piece of foreign cinema and it really isn't, it's just there because it sounds good. There isn't always method in the madness."
Henry continues, "With the writing, half of it was just hammering it out and the other half was Will coming in with a chord structure or a melody and we'd maybe get rid of the chords and just base the song around a structure. Now, because of touring schedules, we've had to get used to not being in a studio so much and writing more on our laptops separately then sending things to each other more fully formed. It's more of a lateral way of writing than being in the studio and starting from scratch maybe. I suppose when the first singles were out there, people only saw one side of what we have to offer, but Language has more texture."
"There are plenty of inspired moments on the album," continues Henry, "like when Dom was messing around with a four-track for ages, he just had this midi contraption and an old four-track and was using chance to generate all these weird noises that we would feed all the atmospherics into the tracks… There were definitely things we did late at night where we're not sure how things happened, the best thing about being in a band though is sharing moments like that and just sharing ideas with your mates. Collaborating on other things like visuals or artwork or whatever else is just an extension of that and you have to be open to suggestions."
There are remixes of 'Silver Tongue' out alongside the single itself by Young Lovers, Mmoths, Asobi Seksu and Mancunian outfit No Ceremony. Is the idea of working with other artists something the enjoy?
Guy responds, "When it comes to influences, collaborations and remixes, we're all into different interpretations and do like it. Like, we've not heard any covers of our own songs yet and we haven't done any ourselves. We are working on a Caribou cover at the moment though, just because we all love Caribou."
"I'm working on a remix by Dick Hyman now actually," says Henry "he's does great, weird, space-pop music that I'm trying to convince the guys to do something with."
The band tweeted last year: "To all those people trying to do blogs, don't bother. We've already got one and it's better than yours" Are they conscious of manipulating social media platforms to build on the band's brand identity?
"Actually, we're not the best at social media," claims Henry. "We tweet, we have a blog and we have a Facebook page, but we don't really understand how it all works or how to take advantage of it to make the band bigger. The way I see it is that before this new media, people used to put up posters and flyers and they'd target an audience by putting it up in a pub or record shop. They'd have a specific look, sound or idea and just put it up. Now we're doing exactly the same thing but in a different medium. For kids today, they've grown up with all this social media and they don't think twice about putting across up their stuff to promote, so why should we question something that is so commonplace? If David Bowie or Brian Eno were kids around today, they would use all these social platforms. They'd embrace it and manipulate it and have fun by seeing what weird stuff they could do with the whole thing."
Zulu Winter's latest single, 'Silver Tongue', is a song about the power of persuasive speech that has a rigid yet lively, fuzz-pop centre with infectious guitars and shimmying chorus. For the video, the band turned to Alex Turvey, a director/designer with a darkly aesthetic and surreal signature to his work. The result came as a beautiful, intense Dali-esque dream sequence of transient and disconnected visuals.
Guy explains the thought process behind it. "Visuals are just as important as the music. With 'Silver Tongues', the music is obviously quite an upbeat and bouncy but there are darker elements that aren't as apparent to people when they're listening to it. Being able to bring that darkness out in a different way just opens up the track and we love that. We said when we were thinking about video treatments that we wanted it to be inspired by the dream sequences in Hitchcock's 'Vertigo' but that was our only input really. I think a piece of music is framed on its own, when you come to the artwork, it's just a matter of re-framing it."
"We're looking more into live visuals now," he continues, "at the start we did projections and visuals at our first shows, but it's something we got lazy about and didn't get round to it again so we'd like to bring that aspect back into the live performances. With visual collaboration as well, I guess one of the most important relationships we've had is with our Art Direction team The Schilling Brothers who are old friends of Will's and they've taken care of all of the art work so it's been great to work with them but we pretty much leave it in their hands"
Language is a strong debut album with a solid structure that washes into distinctive, progressive moods. At times the band plunge into anthemic indie guitar-pop but then comes through the soulful pacing in a wash of synths. It's hard for a 'buzz band' to lose that stigma, but with an album filled with directional guitar work, addictive melodies and Will Daunt's rich, lifting vocals there is an honest talent that backs them up. At times, the build ups plod slowly almost without direction and in the first tracks, 'Key To My Heart' with it's tribal rhythms and 'We Should Be Swimming', there are moments of brilliance but without a real bite. Leading into the single, 'Silver Tongues' and the indie-triumph, 'Bitter Moon' the album slips by with ease thanks to producer, Tom Morris and rolls into the sweetly melodic synth track, 'People That You Must Remember.' The album ends in a catharsis of sorts; by starting with cool, woozy and guitar led indie, it judders down into something layered and at its depths, a warm-hear of soft pop-romance is revealed. It may not be perfect, but it's a great first album and one that sounds more like a fully-formed second release than a first attempt. If Zulu Winter's live performances stand up to the standards of the album, then you're in for one hell of a ride.
Zulu Winter release their debut album Language on the 14 May through Play It Again Sam Recordings and are now UK tour, you can catch the band at the following dates:
17 May: London Boston Arms
23 May: Newcastle O2 Academy **
24 May: Glasgow O2 Academy **
25 May: Birmingham O2 Academy **
29 May: Leeds O2 Academy **
30 May: Manchester O2 Apollo **
2 Jun: Field Day, Victoria Park, London
4 Jun: Folkestone Leas Cliff Hall **
5 Jun: Bristol O2 Academy **
6 Jun: Leicester De Montford Hall **
8 Jun: London LONDON O2 Brixton Academy **
9 Jun: London LONDON O2 Brixton Academy **
24 Jun: Isle of Wight Festival
(** w/ Keane)
More from Best Fit