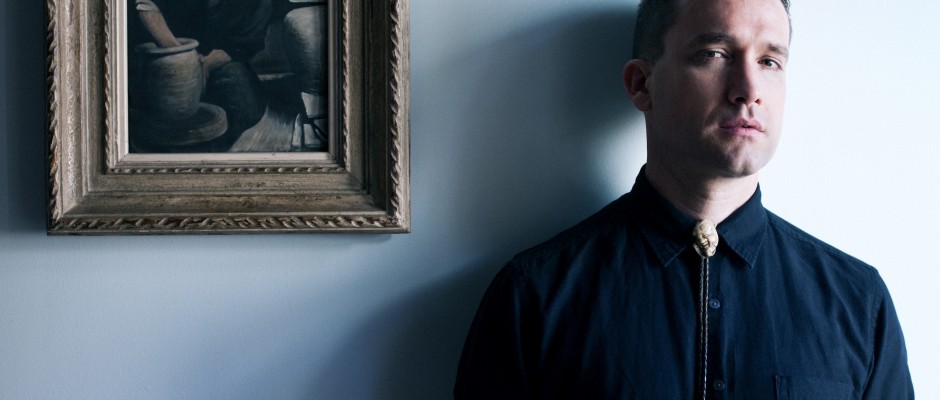 Jamie Stewart, aka Xiu Xiu has a new single out on Bad Paintings, containing two remixes of tracks from last year's characteristically uncompromising Always album. Deerhoof take a shot at 'I Luv Abortion' and Kid606 attacks 'Joey's Song', with impressive results.
This seems like a decent excuse to take a look at our interview with Jamie, conducted in a Transit van outside Sticky Mike's Frog Bar in Brighton earlier this year. Strap in for a wide-ranging chat that takes in Morrissey, happiness and outsider status.
Hi Jamie. After eight albums in 10 years, do you feel like the guy who started Xiu Xiu in 2002? Have you progressed?
No! [laughs] I would not use that word – I wish that I could say "progressed". I've degenerated, that's probably more accurate. I've changed for the worse. I think I'm less confident now than when I started, probably.
Is that because you've had some of the fight punched out of you over the years?
Um… [long pause] I'm not really sure why. I think our trajectory [as a band] has been consistently hanging on by our fingernails. And I think maybe one hand has slipped or something! [laughs] I don't know if we ever had a… just when I think of having the fight punched out of me, it makes me imagine as if I was in the fight in a square way at any point but it's never really felt that way.
Did you have a grand aim when you started out, of becoming A Star, or making A Point?
One – this is corny but true – just do the best job we could do. The other one was just to not have a day job. In other bands I was in before, I think the goal was to try to become a rock star but then I realised that was a regrettably stupid thing to do: music is too important.
I mean, becoming a rock star's not inherently stupid, but I think if your only goal for music is to become a rock star… music is an inherently positive thing in the world, and I think to jerk off all over it in that way is… lame, at least.
I was expecting you to be a lot more earnest – you seem serious but quite fun, whereas on record you're pretty relentlessly down, angry and bitter. Do you find it difficult to "switch on" when you're onstage?
[huge cackle] Well, I've never met you before, I don't want to start screaming! There are nights [onstage] when it's there, and there are nights when it's not. I'll never give up in the middle of a show and just be like: "Oh my god, tonight, fuck it…"
I apologised to the audience one time, and have regretted it for several years. "I'm sorry we sucked tonight" – what asshole says that? I'd never want to fake it – just keep trying.
Do you talk to the audience, get their feedback?
I usually never do. I say "hello" and "goodnight", but I think for the kind of stuff we're doing it's sort of silly to be glad-handy. I mean, if something comes up… we played in Manchester the other day and a long time ago we recorded this New Order cover ['Ceremony', on Xiu Xiu's debut Chapel of the Chimes EP], and we're like, "Oh my god, we're in Manchester, can we play it?" So I very sheepishly asked if it was acceptable to play the song, and fortunately people said it was OK to do.
And did you nail it?
No! I was all wigged out, I was over-thinking it so… we didn't fuck it up but it was not our best rendition.
[Side note: Xiu Xiu had several stabs at 'Ceremony' in Brighton on the night of the interview…]
There's definitely a streak of humour in your lyrics. Do you feel obliged to put a bit of lightness in?
Not really. I'd agree there's some humour but I'd never say there's a joke in [any lyrics]. It's not in response to [the fact] the other things are dark, or an attempt to lighten them up. Anything that's funny is just an attempt to put across a point.
I wondered if you were deliberately trying to wrong-foot people: it crops up musically too, with upbeat songs and downbeat lyrics to go with it – 'Honeysuckle', for example.
I'm never trying to be tricky or anything like that. For 'Honeysuckle', Angela wrote that song and she is right now going through a period of incredible stress, tension and tremendous self-doubt, which is reflected in the lyrics. But the music she's interested in and tends to listen to is Top 40, most of the time. She's just being herself.
I hear you've been covering Rihanna's 'Only Girl In The World' recently…
Not live, but on a 7" we did Rihanna. We've done a lot of covers, maybe 20, and in every case (with the exception of the Rihanna cover) it was because it was a song we were really moved by, or it was important to use one way or another.
But the Rihanna one… I think the song is fine, as far as massive corporate pop goes, but the cover was more a tribute to this particular moment: I live in a small town in the South, and there's this one small dyke bar there, so we frequently go dancing there. [One time] the dancefloor was pretty empty but that song came on and suddenly all these Southern dykes came onto the dancefloor – and that group of people singing that song really radically changes the context of that song.
It was really beautiful seeing, particularly in the South, this somewhat oppressed and marginalised group just taking over and recontextualising this industrial machine pop song and giving it an actual meaning – turning it, for them at that moment, into a real love song. It was wonderful to see, very touching.
It's always gratifying to see fans being fans – were or are you an obsessive fan of any particular band, and you'd completely collapse if you ever met them?
Oh god, I'm wearing the shirt right now… [opens jacket to reveal Morrissey T-shirt] Me, like every other white person in the entire world.
Well, maybe not now. He just keeps doing embarrassing things: eulogising about the UK while living in California, calling the Chinese a "subspecies"…
What's he doing? He's not really followed in the American press. I don't really need to hear this – what a weird thing to say. That's disappointing. I hate it when people who are otherwise cool become [indecipherable]… I guess because so many people are insanely fond of him – myself included. Now somewhat less so… Whatever, the records are still great!
More from Best Fit