The relationship between nature and human beings has long played a role in Canadian identity – be it the plains, the mountains or the forest, the presence of nature has had a significant impact on the way people live their lives. It has also been a significant influence on many Canadian artists, from the Group of Seven onwards. The latest example of this confluence of nature and art can be found in the National Parks Project, a series of 13 short films produced in part to celebrate the 100th Anniversary of Parks Canada, the world's first National Parks organisation. The Line Of Best Fit met with producers Ryan Noth, Geoff Morrison and Joel McConvey to find out a little more about the project.
Drawing together 39 musicians and 13 film makers over a few short months in 2010, the ambitious project has produced a series of short films, a documentary series, an album and a number of live shows. Despite the vast array of products that have emerged as part of the Project, producer Ryan Noth observes that the finished project still has the original, simple idea at it's core- to see what would happen if you took your favourite musicians and film makers into the parks and gave them a limited time to produce something inspired by their surroundings.
The project itself began life after Noth met a representative of Parks Canada while pitching a sitcom at a TV conference in Banff back in 2006. Parks Canada's wish to open and encourage the young and urban population to engage with the National Parks-set him thinking, and before long Noth and his colleagues were round a table having that "wouldn't it be great if.." conversation that seems to be the start of so many ambitious projects-names and locations jotted down on pieces of paper and talked over. A test shoot in Grosse Morne, Newfoundland turned into a 45 minute short that attracted interest at film festivals and suggested they might be on to something. With this positive reception, tackling one park in each province seemed like the logical next step, and plans progressed.
With a vast array of artists including The Besnard Lakes, Shad, Cadence Weapon and , members of Ohbijou, Godspeed, DFA 1979, Do Make Say Think, The Great Lake Swimmers, BSS, Woodpigeon, and The Weakerthans and a host others , through a combination of masterminding combinations of artists, asking who they would like to collaborate and the more mundane "Scheduling clashes", artists were paired up with a film maker and given 5 days to write and record. Morrison explains that the artists were frequently torn between creating "Soundtracky" sounds, and more structured songs- sometimes assisting on each others songs backing one persons idea, while other collaborated in a way that wasn't recognizably anyones style. Often early day rushes would be shown to the artists at the end of the day, once again reprogramming and reinvigorating the creative process. After initial concerns and tentative steps about working together, Noth observed, usually the issue was how to get own all the ideas that emerged with so little time.
The project clearly made an impression on the artists involved: we caught up with Tony Dekker of Great Lake Swimmers who had this to say about his experience: "The National Parks Project was a series of highlights for me, and I feel it's one of the best things I've been a part of in my musical career so far. It's really opened my mind to thinking conceptually about writing music in tandem with experiencing the natural world. It's something that I've been striving for in my own music over the last decade, so to be part of something so thoughtful in depth and scope was an invigorating challenge. It was also amazing to collaborate with Chris "Old Man" Luedecke and Daniela Gesundheit (of Snowblink), as well as filmmaker Keith Behrman. Our trip consisted of hikes through Acadian and Boreal forests, and we camped mainly on site in Cape Breton Highlands National Park, waking up to a family of moose moving through our campsite on one occasion, which was pretty magical. It was also my first time seeing whales up close; it was thrilling to be in such close proximity to wildlife in that way. I'm really proud of the music and images that we developed on the trip."
While some of the films feature the artists themselves performing, each director was given free reign within their 15 minutes to present their vision- with all the films running consecutively for the Theatrical release. You can see each of the individual shorts at www.nationalparksproject.ca , where you can also stream full EP's of songs created as part of each project and find out more about the artists invloved and the parks themselves.
National Parks Project – Mystic Morning
National Parks Project – Said The Wind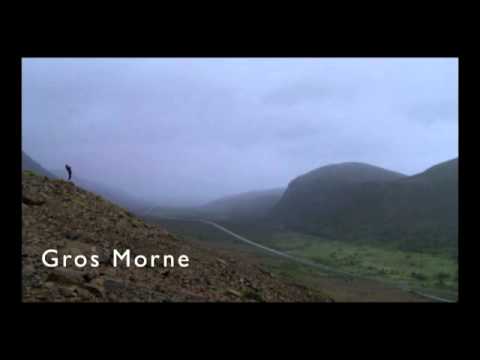 More from Best Fit