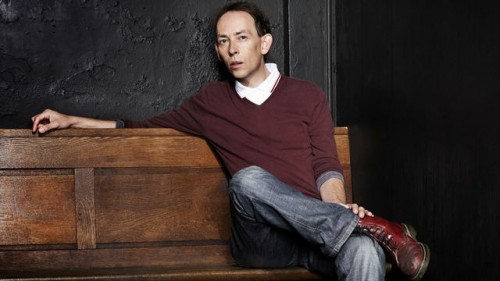 Ahead of presenting the first ever 6 Music Prom – with The Stranglers, Laura Marling and Cerys Matthews - Steve Lamacq takes the Best Fit Q&A and tells us about his dreams of falling, why his choice of superpower would enable him to go to more gigs and just who he'd most like to apologise to.
Who would play you in the movie of your life?
That's Richard E Grant. I could do with his height to make me look a little more imposing. But I think he'd be excellent when it came to reading some of the flowery reviews I used to write for NME.
What would your superpower be and why?
Being able to instantly transport yourself from one place to another. You could go to two or three gigs all over the country in the same night. One thing I miss about the live music scene in London is that it's harder these days to run from gig to gig. And you don't really get a proper idea of what a band are like until you've seen them live.
What's your idea of heaven?
Not having anything in the diary.
What one thing have you learnt from your parents?
Not to be so useless with money. I was a constant disappointment to my dad, because he was an accountant and was pretty good when it came to looking after his cash. In the end he taught me a lesson by lending me some money for my first car, which I had to repay by monthly direct debit. Only I forgot to cancel the standing order and ended up paying him £30 a month for nearly 20 years!
What song do you wish you'd written?
At the moment it's 'Week Of Pines' by Georgia Ruth, but I suppose something from the punk era which still stands up well, and was inspiring at the time, so maybe 'Complete Control' by The Clash.
If you could say something to your 15 year old self, what would it be?
Don't throw away all your old copies of 2000AD
What's your re-occurring nightmare?
Falling. It's always something to do with falling. Mostly I topple over the edge of a cliff, then end up floating over a beach which is absolutely smooth, apart from one giant pebble.
What song will they play at your funeral?
Carter USM's version of 'The Impossible Dream'. If I go first, Jim Bob has said he'll turn up and play it live. So I guess that would be my final gig.
What five people would you invite to your fantasy dinner party?
Comedian Mark Steel, Kathy Burke, James Bolam, Nadine Shah and my mate Silent Tim.
Who would you most like to apologise to and why?
I was quite rude to a club promoter in Liverpool once, which is out of character for me. I felt dreadful about it all the way home the next day. Oh, and there's a few bands I've slated a little too viciously along the way too, when I was more angry about pop music. Mind you, some of them probably deserved it.
Tomorrow (12 August) Steve Lamacq presents the first ever 6 Music Prom at The Royal Albert Hall. This Late Night Prom features performances by original punk rock purveyors The Stranglers, double Mercury Prize-nominated Laura Marling and 6 Music's very own Cerys Matthews with the London Sinfonietta.
The Prom will be simulcast on BBC Radio 3 and BBC Radio 6 Music. Listen again at www.bbc.co.uk/6music.
More from Best Fit